ZIMMERMANN / BEAM Reagent Test Kit
€5,64 – €6,77
FREE DELIVERY OVER 80€ ★ Daily dispatch at 11 GMT ★ Discreet packaging ★ Shipping label with no mention of "PRO Test"
2 bottles of ZIMMERMANN A+B reagent (up to 100 tests)
2 gloves, 1 micro spatula
1 double ceramic spotting plate
Instructions for 700+ substances
For extra-stealth ask us in the checkout notes to not include the substance-related sticker and booklet.
Description
By purchasing Zimmermann Reagent PRO Test Kit you promote harm reduction and the fight for drug policy based on human rights and facts, not prejudice.
How to use Zimmermann reagent test? [BASICS]
ZIMMERMANN / BEAM REAGENT
Zimmermann reagent is one of the primary tests for a-PVP, MDPV, mephedrone, other cathinones, and benzodiazepines. It's a 2 part test that helps distinguish secondary and tertiary cathinones (mephedrone vs a-PVP derivatives). Coincidentally the test includes the Beam reagent for identifying CBD. Zimmermann / Beam Reagent PRO Test Kit includes a ceramic reaction plate, spatula, gloves, instructions and app for all test kits and over 700 substances. Every bottle contains 5 ml, 100 tests in total. High-quality HDPE protects reagents from light and moisture to ensure prolonged shelf life. Special dropper guarantees 0 spills, to pour a drop gently squeeze the bottle.
The Zimmermann reagent on its own is colorless. It's best to use Zimmermann reagent to test a-PVP, MDPV, mephedrone or other cathinones, but it's also a good test for CBD and benzodiazepines.
NOTE: Zimmermann reagent deteriorates with time or due to contact with air, especially if exposed to sunlight or not refrigerated. If you are uncertain whether the reagent will work, test it with a previously confirmed sample.
Are you still looking for the best reagent test? See all drug testing kits HERE. Next choose a TLC purity test kit. It allows you to discover full number of ingredients and estimate their amount, however still requires reagent tests to identify detected compounds.
HANDLING
Zimmermann reagent contains harmful chemicals. Keep out of eyes and mouth. Keep out of eyes and mouth. Keep away from children. Always use in a well-ventilated area. Wear gloves (supplied) when handling the bottle and cap. Wear protective eyewear. Never point towards face etc. If you get some on you/clothing, then immediately wash with lots of soap and water. Dispose of any unwanted reagent with running water, ventilate. Store reagents away from heat in a cool, dark place. The average shelf life of 2 years can be significantly extended by storing in a fridge or freezer (warm to room temperature before use).
A positive or negative reaction does not indicate if a substance is safe. No substance is 100% safe.
Zimmermann video
How to test drugs using reagent tests? [BASICS]
Instructions

GET ALL TOOLS
First, prepare a clean white testing surface – ceramic or glass is the best, e.g. bottomg of a mug or a plate. Get your sample, reagents, a sharp tool / scoop and cleaning wipes.
PREPARE SAMPLE, ABOUT THIS BIG -> ●   
If testing a pill, powder or crystal, crush it finely. If testing a liquid, dry one drop on paper or clean ceramic surface. If testing a blotter or gel tab cut off 1/10th (a corner). A bigger sample can cause a stronger reaction. You need a new sample for each reagent test.
ADD ONE* DROP (OR SCOOP) OF A REAGENT
Shake the bottles hard before use. Do not let a bottle touch your sample or you will ruin the rest of the reagent. Use just enough reagent to cover a sample, if using crystals mix them with sample using a clean tool. *Do not mix reagents except for "A" and "B" bottles.
OBSERVE FOR UP TO 3 MINUTES*
Disregard any color change after 3 minutes. Bubbling or fizzing is normal. Take photos.
*If testing a blotter using Ehrlich or Hofmann observe reaction for up to 120 minutes.
COMPARE RESULTS
Compare color change with instructions. Reagents can indicate PRESENCE, but not PURITY or QUANTITY. Adulterants can be detected with reagents only if they cause a darker color change than the expected substance. To detect all ingredients and estimate their amount pair reagents with a TLC purity test kit.
Clean used reagent tools / testing surface with lots of running water and detergent, avoid contamination.
Expected Zimmermann reagent results:
Most -diazepines, including alprazolam and etizolam: blueish – purplish (depends on pill binders)
Clonazepam, Nitrazepam – yellow
CLICK BELOW TO VIEW PRO TEST REAGENT TESTING BOOKLET IN FULL RESOLUTION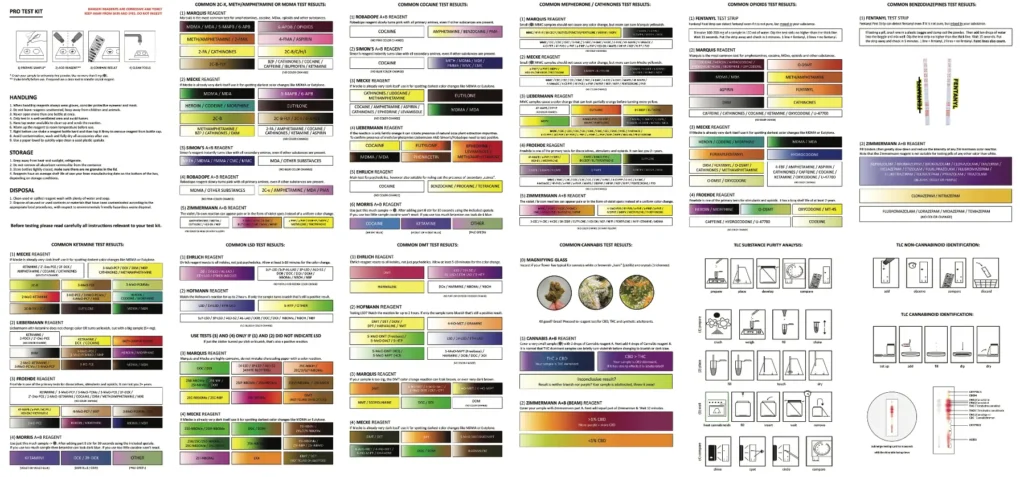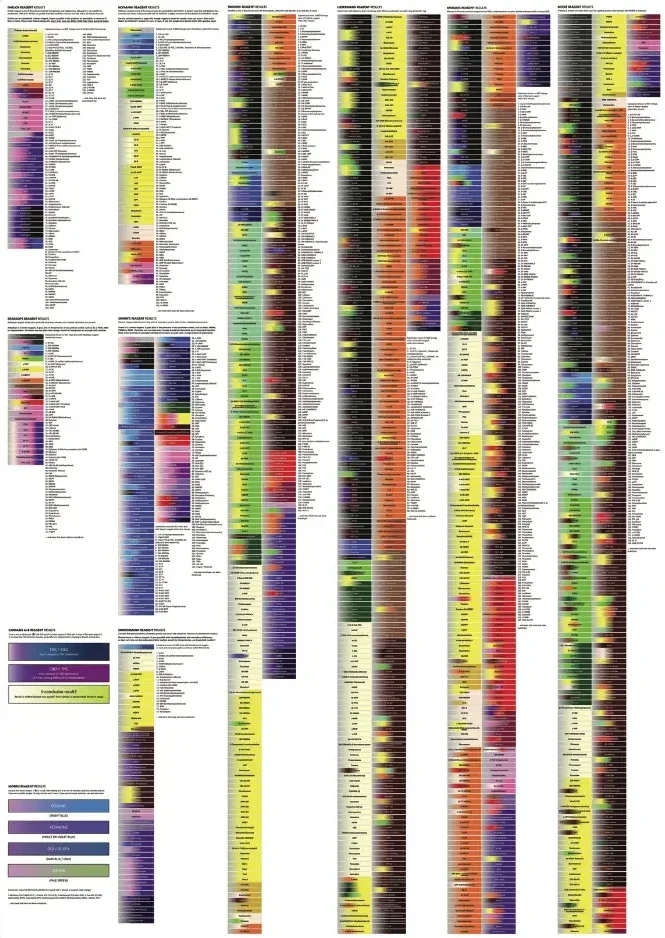 App and support available
Amber glass for corrosives
Designed to last you years
We refund unused test kits
5% of profits goes to PAH